Career Advice for Female Developers from amazing CTOs
tl;dr
Going into management can take the form of Tech Lead, Architect, Development Manager, VP of Engineering or CTO, amongst others. Take time to identify what you want your next step to be, make a plan to get there and speak with whoever can help you achieve it.
It's okay to be an Individual Contributor for your whole career, don't go into management unless you want to and feel a need to do so.
Mentorship (receiving advice) and Sponsorship (career advancement) are very different. Know which one you need and find the right people. Look for mentorship amongst your peers.
Track what you accomplish at work. Assume no one else is doing so. Use your accomplishments to advocate for a pay raise, promotion, new job.
Be friendly to other women and help raise each other up, whether it's at work or in a social setting. Advocate for each other; we all benefit from it.
Full story
During a meetup held by Write/Speak/Code NYC titled "Panel: The Path to CTO", I couldn't help but jot down notes because I didn't want to forget all the amazing tidbits of knowledge these incredible women were sharing with the group. As the event progressed I realized that I had never been exposed to most of this information before and decided I would share what I had learned with as many people as I could; so here's goes!
The four amazing panelists included:
Yvette Pasqua, CTO at Meetup - Camille Fournier, Managing Director at Two Sigma, former CTO Rent the Runway - Julie Iskow, EVP/CTO at Medidata Solutions - Minerva Tantoco, CTO
* Full speaker bio's available at the end of the article *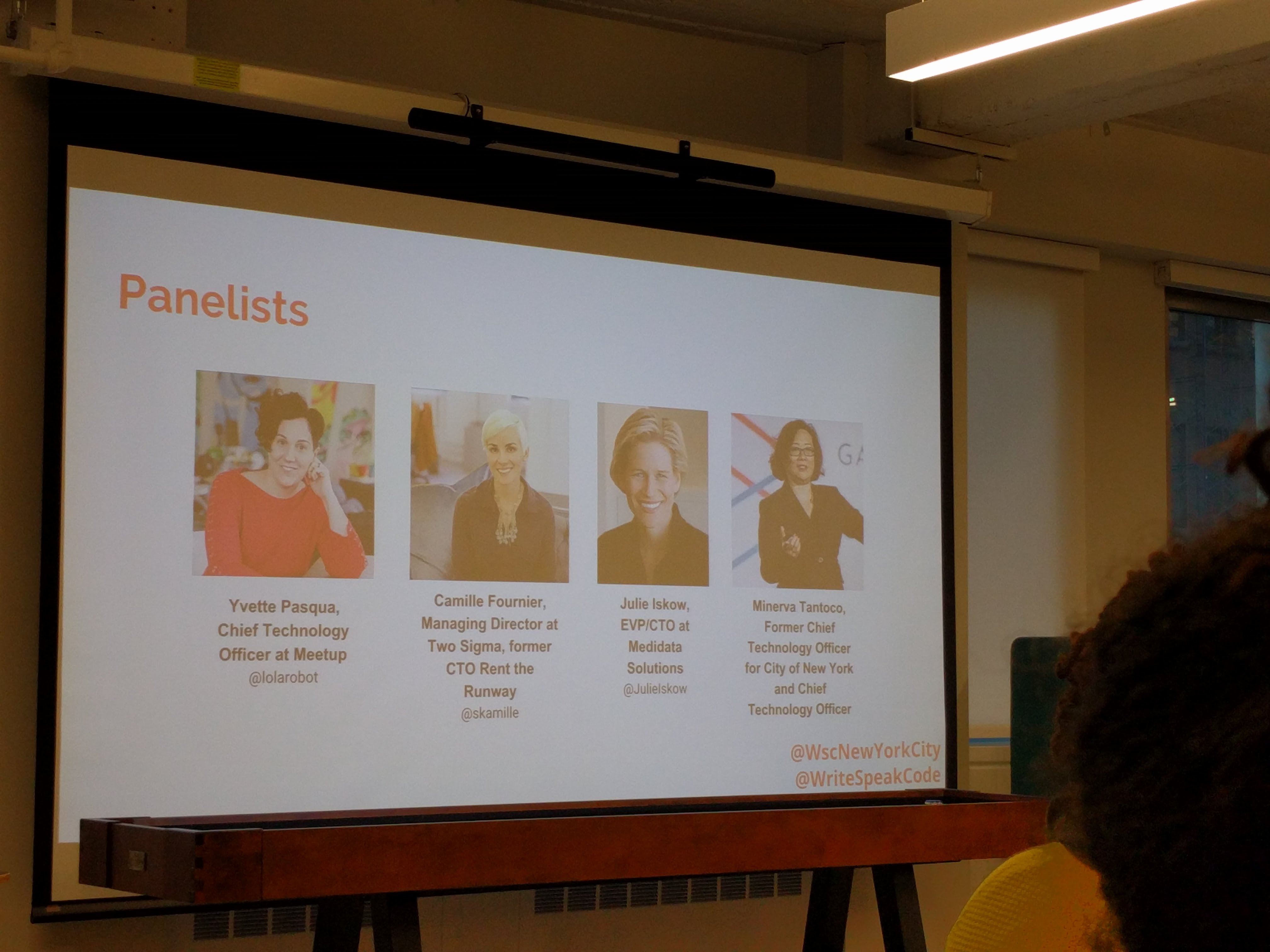 Each section below is divided into the topic posed to the panel, followed by their joint responses (paraphrased).
=> Lessons Learned
Get comfortable with failing and find ways to cope with failure.
Approach things with an open mind and minimize judgement of yourself.
Don't be scared about what you might not be good at right away, developing new skills takes time and repetition.
Be open-minded and curious.
Be comfortable with change, it will happen whether you want it or not.


=> Mentorship
Seek out friendship and through that peer-mentorship. Peer-mentorship can be more valuable than a typical mentor <-> mentee relationship because you're often developing in your careers at the same time and potentially doing so in different ways (and at different rates) that you can mutually learn from.
Knowing the difference between mentorship (receiving advice) and sponsorship (career advancement) is important to figuring out what you need at a given moment. Take time to think about which one you want in order to find the best people. If you want mentorship, also take time to note what you can contribute to your potential mentor(s) as a mentee.
Look for people you respect and figure out what you like or admire about them, then figure out how to can emulate them.
Early on, find teams you can join, work with and learn from. Your coworkers or side-project teammates can teach you a lot and you can, in return, teach them.


=> Transitioning from an Individual Contributor (IC) to Manager:
Find a sponsor to advocate for you and get thrown into it.
Set up a plan for yourself to get you into leadership and speak with your manager. Show your manager your ideas and ask that they help you set milestone to execute on the plan.
Take on more leadership roles and start exhibiting managerial skills by helping facilitate tasks, mentoring someone on your team, becoming the go-to person for your teammates.
Know yourself. Take time to figure out who you are and ask yourself if you are happiest as an IC or a facilitator (one of the key roles of a manager).
Promote yourself. This includes your teammates and leadership where you're working now, and your larger network in case there's a managerial opportunity at another company.
Go to a team or company that is growing and you'll be put into management. Word of caution: If the ultimate goal is to go down the CTO path, only do this once you've mastered your craft.


=> What it's really like to be a Women in Tech, in Management:
It's lonely; there are not a lot of women at this level.
It's a lot of NOT becoming the people you dislike and also showing people that you know what you're talking about and can hold your own.
You question if you belong. Asking "Am I just a diversity candidate?".
You can make change because you're in leadership. At the same time it takes a lot of effort to make change happen.


=> Traits managerial candidates should exhibit:
Understanding trade offs and communicating them well to people.
Delivering (doing what you say you're going to do).
Communicating often and effectively.


=> When to jump into management:
You'll know it's time to switch from IC to Manager when you want to take on a leadership role and the desire to do so is stronger than being an IC.


=> Getting women to stay in tech:
Hire women into leadership positions.
When women join your company invest in mentoring them and growing them into leadership roles.
You have to work to figure out how to keep women at your company and then make it happen.
Pay them what they deserve and promote them.


=> What women can do at their current company to help advance each others careers:
Be friendly with the other women at your company, those within your team and in other departments. This will help strengthen an open and safe culture.
We have moved past the point where women are competing for the 1 spot, so endorse and support each other as much as you can.
Don't talk about diversity and just do it. Ex: Start an internal group, help find female candidates.
Increase company transparency.
Recognize if someone isn't happy or isn't being heard, tell your manager and speak with the person who's feeling this way to help get their voice heard.
If you feel safe, speak up about diversity and any redflags you might be observing.


=> Ways to use your voice to drive change in tech:
Speak as much as you can (in meetings, at events, at conferences, online) and speak the truth (your truth). Finding a place you feel safe and where you're supported is key to helping you feel comfortable speaking up and developing that skill.
Have conversations on the side, say things quietly. 1-on-1 conversations and calling out a wrong action with someone directly (in private) can be very powerful.
Be present and speak out: "If you don't see it, you can't be it".
Amplify other women in tech, use your voice to put the spotlight on others.


=> Maintaining work-life balance and preventing burnout:
Burnout can be more about how much mental space your job takes up and feeling like you can't make the changes you want to make or you aren't making progress.
Burnout can be about the emotional price you pay. It's important to make time to get out of your head; pay attention to yourself and your team as they might spot signs of burnout that you are ignoring.
It's important to be true to who you are and embrace it.
Find out what sucks energy from you and what gives you energy. Write them down (they will change) and once you've done that figure out how your job aligns. It might not align at all, which will likely lead to burnout and might be an indicator that it's time to transition.


=> What to look at in a company when applying or interviewing:
General advice:

In the early stages take the job where you will learn the most from the people and projects you'll be working on. Make sure you're still getting paid what you deserve.
Look for a company where you can make change and you feel your voice will be heard.
Ask how important diversity is to the company and what specifically they're doing to improve diversity within the company as a whole and the engineering team. Ask this to a few people during the interview process and look for red flags (Ex: you're getting vague or different responses, there's nothing actionable happening or even a plan)



Know yourself:

Know what you value and what you want in a company culture. This will help you find the right match for you, whatever that is. If joining a company that is mission driven is very important to you, apply to mainly those companies.
Know who you are and what you want out of your job. Are you after perks and high pay, solving difficult problem, career growth, getting to travel often?



Company culture:

Pay attention to the way you're treated during the interview and the questions you're being asked. If you're being asked trick questions or being spoken down to, this is an indication of what working at the company will be like. The people interviewing you will often be the people you work with most.
The worst behavior that is tolerated, IS the culture.
Ask "what makes a person successful here?" during your interview or within the first few weeks. This will tell you about the company and what the culture will be like.



Leadership:

Look at who's in leadership and the traits they exhibit because it will trickle down to the rest of the company.
Don't pick the place just because of what you're told you'll get to work on, consider the leadership (your manager, your CTO, your mentor). You might get to work on problems you like but other parts of your work-life might be unsatisfactory.



Questions to can ask during an interview:

What does success look like in this role?
What is your day like?
Why do you love working at this company?
What are your expectations for this role?
What keeps you up at night?


=> General career growth advice:
Use Twitter (expand your network, get your voice heard)
Get involved in social groups like Slack / Facebook groups, meetups (expand your network, learn from each other)
A great way to get somewhere is to be the first: Start your own group
Find a comfortable way to connect with people and start connecting
Sign up for newsletters that are relevant to you (you don't have to read everything, you can scan them for what interests you and dig into that)
Do in-person stuff if you're somewhat comfortable with it (1-1 coffee, events, conferences, video conferencing calls)
Find ways you like to learn and lean into it (ex: reading, working on side projects, attending events).
Don't let anyone pressure you into management if you're not interested at all or you want to continue being an IC for a while longer before going into management.
Keep track of the projects you deliver and leadership positions you take on at work. Assume no one else is doing so. Use this information to advocate for a pay raise, promotion, new job.



HUGE thank you to Write/Speak/Code NYC for hosting this event and to the amazing panelists! I will carry your lessons and advice for a lifetime. <3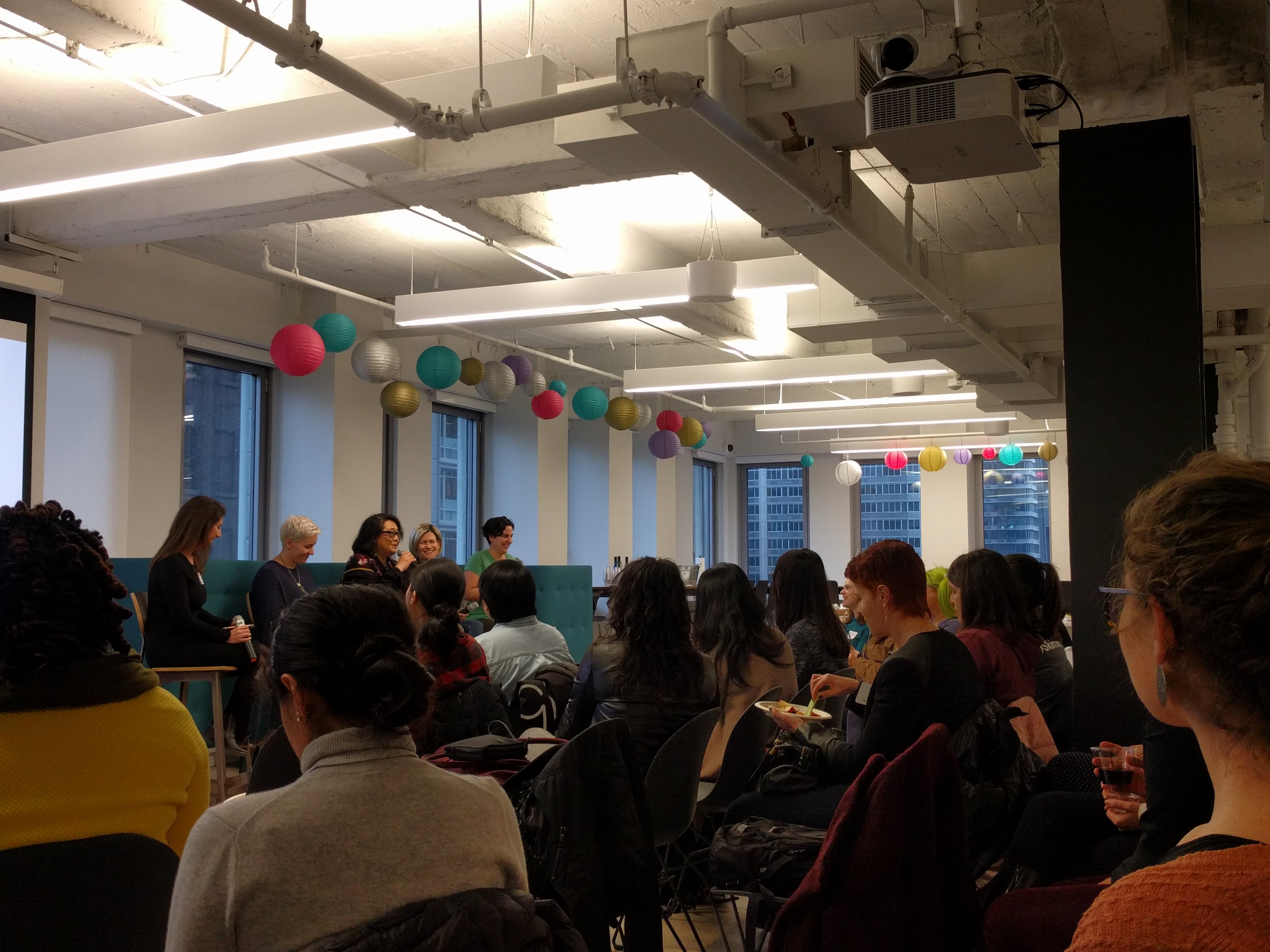 Panelist Bio's: (ordered right-to-left as photographed)
Yvette Pasqua, CTO at Meetup
Yvette leads the engineering team with a focus on continuous learning, iterating, and using data to launch software that brings people together around the world to do more of what they love. Her team's work enables 35+ million members in over 180 countries to organize and meetup in real life. https://twitter.com/lolarobot
Julie Iskow, EVP/CTO at Medidata Solutions
Prior to her current role as CTO of Medidata, Julie was the CIO at WageWorks, after having held engineering and technology leadership positions in high-tech manufacturing. Julie's focus is leveraging tech and data to revolutionize businesses/communities and transform lives; she has a BS from UC Berkeley and an MS from UC Davis. https://twitter.com/JulieIskow
Minerva Tantoco, CTO
Minerva is an inventor, patent-holder, innovator, mom, and former first CTO of the City of New York. She has over 30 years in tech and 20 as a CTO, and is focused on inspiring equity in tech. https://twitter.com/minervatweet
Camille Fournier, Managing Director at Two Sigma, former CTO Rent the - Runway
Camille is a Managing Director and Head of Platform Engineering at Two Sigma. She is the former Chief Technology Officer of Rent The Runway and a former Vice President of Technology at Goldman Sachs. https://twitter.com/skamille